Lee's Summit Tire and Auto Repair
Welcome to Telle Tire & Auto Centers Lee's Summit
Every Telle Tire and Auto is equipped to provide full-service auto repairs and vehicle inspection. At our Lee's Summit location we have you covered with the best prices on tires and any aspect of your vehicle's maintenance. ASE-certified technicians offer excellent, professional service to keep your car running safely and smoothly. We always stand behind our labor and parts warranties and we'll keep you informed about your vehicle.
We didn't forget the details of great customer service, either. While you're waiting in our lounge (with chairs you'll actually want to sit in), enjoy snacks and coffee with us. If you'd rather not wait around, we offer complimentary shuttle car services.
Telle Transport
Take back your day with our shuttle and valet service.
We make it as fast and convenient as possible to service your car. You can drop it off and ride our complimentary shuttle to and from your home or office. Or, deliver one to your home or office for a small charge. It's just one more example of how we're Driving Your Way.
How was your experience with Telle Tire & Auto Centers?
We are always happy to receive feedback from our valued customers so that we can continue to improve our service. If you could spare two minutes of your time to write a review, we would be really grateful and very happy to read it. Thank you for trusting us with your purchase and, hopefully, taking the time out of your day for writing a review.
Why Choose Telle Tire & Auto Centers in Lee's Summit MO
Full Service Auto Repair Backed By Warranties
We do more than just tires at Telle Tire! Let us meet all of your vehicle needs, including repair, maintenance, fleet services, alignment services, and more— all backed by a no-hassle 3 year / 30,000 mile warranty.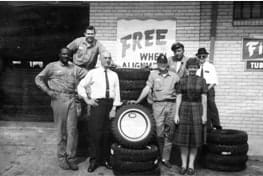 Four Generations of Local Service
We're passionate about forming long-term partnerships and doing the right thing for our customers for up to 80 years. We are excited to bring this level of customer service to the good people of Springfield!
Our People Are The Difference Makers
Our ASE certified technicians are the best in the business, which is why our culture of service and accountability directly led to Telle Tire being proudly selected as a top finalist for best places to work in our industry.
Going the Extra Mile
Telle goes the extra mile to provide excellent service to customers —literally! We will give you a complimentary ride to and from the shop through our shuttle, or valet service. All you have to do is schedule the time and we'll be there.
Contact Us
Your car will be in the hands of a family-owned Missouri company that has thrived for more than 80 years by building long-term, trusting relationships with customers, hiring the best, most qualified staff, and offering the best pricing and selection. We will continue to provide you with the same top-notch auto service while now becoming your home for the best place to buy tires in Lee's Summit, MO.
The best name brands and professional service at the lowest possible price.
Guaranteed. That's the Telle Tire Promise.
Tim Tuckfield
Store Manager, Lee's Summit
Tim started working at the store in 2005 and took over as manager in 2013 after his father Joe managed the store for 42 years. Tim remained with the shop and joined the Telle Tire family in 2023, he and his family understand the importance and take pride in the store's legacy and its valued customers from the many years of service to the Lees Summit community. Tim was born and raised in Lees Summit and enjoys camping and golfing with his family and friends.