South Kansas City Tires and Auto Repair
Welcome to KC Complete Auto & Tire South Kansas City
Over the past 15 years, KC Complete Auto & Tire has grown from one location to five across the Kansas City area, all thanks to your loyal customer support.
Your car will be in the hands of a family-owned Missouri company that has thrived for more than 80 years by building long term, trusting relationships with customers, hiring the best, most qualified staff and offering the best pricing and selection available. We will continue to provide you with the same top-notch services and auto repair. Choose KC Complete Auto & Tire if you are in the South Kansas City area for best prices on tires.
6130 Troost Ave., Kansas City, MO 64110
Our Business Hours
Monday-Friday: 7:30 a.m. – 5:30 p.m.
Saturday: Closed
Sunday: Closed
Why Choose KC Complete Auto & Tire South Kansas City
Professional Service Backed By Warranties
Our ASE certified technicians are the best in the business, and with a no hassle 3 year / 30,000 mile warranty, your vehicle is in good hands.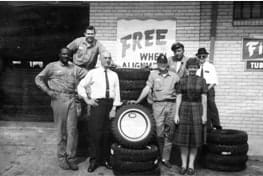 Four Generations of Local Service
We've successfully served locally for more than 80 years because we're passionate about forming long-term partnerships and doing the right thing for our customers.
Our People Are The Difference Makers
Our culture of service and accountability directly led to Telle Tire being proudly selected as a top finalist for best places to work in our industry.
Comfortable Waiting Rooms
Wait for your service completion in style with a premium coffee or bottled water in our modern and cozy waiting rooms.
Contact Us
With more than 15 shops operating across Missouri and thousands of fixed cars over the years, we know just about everything there is to know about cars. We're the full-service mechanics that South Kansas City trusts to provide outstanding automotive service. We're happy to walk through any questions you have about your vehicle, just fill out this form and we'll be in touch.
The best name brands and professional service at the lowest possible price.
Guaranteed. That's the Telle Tire Promise.