Welcome to Telle Tire – Richmond Heights
1323 Big Bend Blvd, Richmond Heights, MO 63117
Our Business Hours
Monday-Friday: 7:30 a.m. – 5:30 p.m.
Saturday-Sunday: Closed
Telle Transport
Take back your day with our shuttle, loaner and valet service.
We make it as fast and convenient as possible to service your car. You can drop it off and ride our complimentary shuttle to and from your home or office. If you'd rather, we'll give you a loaner. Or, deliver one to your home or office for a small charge. It's just one more example of how we're Driving Your Way.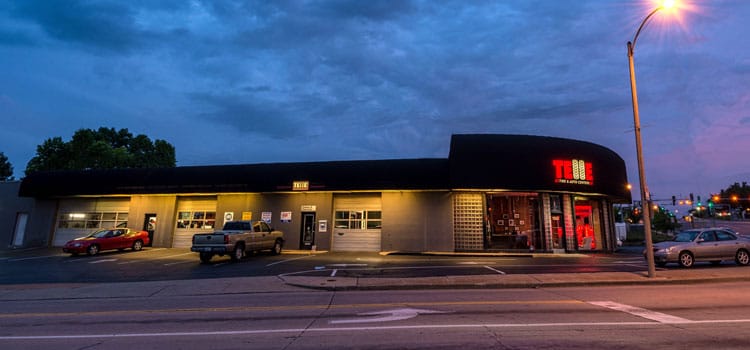 The best name brands and professional service at the lowest possible price.
Guaranteed. That's the Telle Tire Promise.
Contact Us
Four generations, more than 80 years and thousands of fixed cars later, we know just about everything there is to know about cars. We are the full-service mechanics Oakville has trusted since 1942. So go ahead, ask us your toughest questions. We have the answers.
Doug Mathewson
General Manager, Richmond Heights
Certifications: Michelin Expert Certified, Continental Expert Certified, Completed driving leadership training
Doug Mathewson started with Telle Tire and Auto Centers in 2010, but has been in the automotive industry since 1993. He likes socializing with customers, getting to know their families and hobbies. In his free time, Doug likes to spend time with his wife, Lisa, and three kids Ryan, Amanda and Carly. They like playing sports and vacationing at their lake home in the Lake of the Ozarks.
Alex Telle
Service Manager, Richmond Heights
Certifications: Dale Carnegie Sales Training, Michelin Certified, Continental Certified and continuing his ASE Training
Alex first joined in his family's business at the age of 16 cleaning around the shop. He enjoys creating solutions that arise with the complex issues of today's automobile. Being part of the fourth generation of Telle, he appreciates the relationships that have been created and passed from generation to generation and is proud to be doing the same work that his father and grandfather did for so many years. When not at the shop, Alex enjoys hiking with his wife Michele and their dogs, and watching baseball every chance he gets.