Meet the Telle Team
Long-term employees dedicated to providing quality auto service and building lasting customer relationships
The backbone of our business is people—dedicated long-term employees and valued customers. We are about building and creating relationships with our customers for many years to come.
As a fourth generation family business, Telle—and each of our team members—maintains a passionate focus on solving customer's problems through attention to detail, collaboration and integrity.
At Telle Tire & Auto, each of our employees understand then importance of providing strong value through quality products and services. The Telle Tire promise is to find you the right tire at the lowest price. Not only are we St. Louis' tire experts but we are also your automotive service experts with ASE-certified technicians.
With master technicians and friendly office representatives on staff, we are more than just your one-stop shop for auto service—we're your trusted partner for convenient car repairs.
Meet our team and learn why Telle has been St. Louis' #1 choice for auto and tire service for more than 80 years.
MEET OUR CORPORATE OFFICE TEAM
AARON TELLE
President & CEO, fourth generation
10 years industry experience
Aaron Telle began his career with Telle sweeping floors and shuttling customers in high school. He dedicated himself to learning all aspects of the tire business and, in 2009, Aaron took over as the fourth generation owner of Telle Tire & Auto Centers. In 2016, he was selected by Modern Tire Dealer as an industry innovator "On the Rise." He and his wife, Laura, have three sons—Austin, Samuel and James. His family is actively involved in local charities including the Lutheran Association for Special Education and Joe's Place.
MIKE ALLEN
Vice President of Operations
Certifications: Service Manager Academy
Mike has been with Telle Tire since 2017. He got his start in 1999, cleaning floors and pumping gas at 15 years old, eventually working up to replacing tires, changing oil and operating a shuttle van. Now, as a manager, he absolutely loves customer interaction and providing excellent service. At home he enjoys working around the house, riding his bike or spending time outdoors with his two daughters Kaylee and Courtney.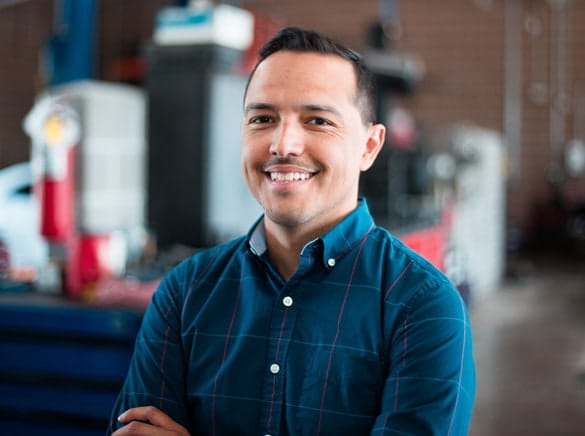 MARCO GONZALEZ
President, Kansas City & Springfield Operations
Education: Bachelor in Business Administration, Minor Economics – Park University
Certification: SSA – Sales and Service Excellence
Marco started at KC Complete Auto in 2005 changing oil while attending night classes to continue his education. By 2008, he was put in charge of overseeing the daily operations and was a key contributor to the company growth including expanding from a single store to five retail locations. Marco is excited to be a part of the Telle Tire & Auto family and enjoys working for a family business with such a strong reputation. At home he enjoys riding bikes, fishing, and traveling with his wife, Laura, and their two children, Lucas and Eliana.
LAURA TELLE
Vice President – Chief People Officer
12 Years business experience, Masters in Business Administration, Washington University in St. Louis
Laura took on the role of Director of Human Resources in October 2017. She is excited about the opportunity to apply over a decade of corporate business knowledge and leadership experience within the growing family business. She enjoys traveling, running and most importantly spending time with her husband, Aaron, and their three sons, Austin, Samuel and James.
RICHARD LAPLANT
Controller
Education: Masters in Accountancy, University of Missouri – Columbia
Certification: Certified Public Accountant (CPA)
Richard started with Telle Tire & Auto Centers in July 2020. He enjoys working with numbers and providing others with information useful in the decision making process. He is excited to contribute accounting experience within a growing company focused on excellent quality service. In his free time, Richard enjoys watching Mizzou and Cardinals games with his wife, Marissa, and his son, Miles.
RICH OPPITS
Director of Sales
30 years with Telle, AMI Master Automotive Accredited Manager, ASE-certified professional service consultant, Dale Carnegie Leadership certification
Rich Oppits has worked at Meyer's Automotive, now Telle Tire & Auto Center, for 30 years. He enjoys working in the automotive industry because it allows him to build relationships with customers, solving their vehicle challenges and keeping their cars in safe, operating condition. Rich coaches and plays ice hockey in his free time. He also enjoys boating, skiing, biking or any activity he can do with his wife, Diane, and two children Lauren and Jacob.
DOUG MATHEWSON
General Manager, Richmond Heights
Certifications: Michelin Expert Certified, Continental Expert Certified, Completed driving leadership training
Doug Mathewson started with Telle Tire and Auto Centers in 2010, but has been in the automotive industry since 1993. He likes socializing with customers, getting to know their families and hobbies. In his free time, Doug likes to spend time with his wife, Lisa, and three kids Ryan, Amanda and Carly. They like playing sports and vacationing at their lake home in the Lake of the Ozarks.
JAKE GREBE
General Manager, Tesson Ferry
Certifications: L1 Certified Master Tech with additional ASE certifications as a C1 Service Consultant
Jake joined the Telle Tire family in 2020 with the acquisition of the former J & W Automotive. He started working there at thirteen cleaning and doing jobs around the shop, began working on cars at age sixteen, and now runs day to day operations. Building customer relationships by putting customers at ease and keeping their families safe is his favorite part of the job. His motto is, "customers can get them worked on anywhere, they bring them here to be fixed!" Outside of work, Jake and his wife Beth, an elementary school teacher enjoy spending time with their four children—Jake II, Pete, Betsy, and Rosie and watching them play lacrosse.
JOE SIMPSON
Store Manager, Bridgeton
Education: Lewis and Clark Career Center – Automotive Service Technology; ASE Certified Master Technician
Joe has taken extensive automotive training over his 28 years in the industry. From ASE certifications and tire training to touring the Cooper Tire manufacturing plant and Jireh tire retreading plant.  Joe has managed an OTR and truck tire service center.  As a part of the Telle Tire family since 2020, Joe enjoys meeting and talking to new people.  Joe loves spending time with his wife Tammy, playing golf, bowling, playing billiards, fishing, playing with his beagle, and spending time with his father John.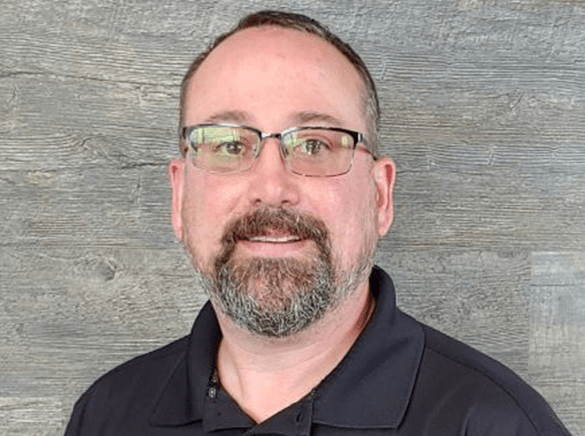 JON MOONIER
General Manager, Sunset Hills
Education: Bachelor of Arts in Communications- Truman State University
Jon has over 20 years experience in customer service and management and started working with Telle Tire and Auto Centers in 2017. He enjoys the relationships he's built with customers and his coworkers at Telle. Jon enjoys fishing and traveling. He especially loves taking road trips to National Parks throughout the country with his wife, Sarah, and two children, Ally and Katie.
Emery Cannon
Store Manager, Central West End
Emery has been in the automotive industry for almost twenty years. Prior to joining the Telle Tire team, Emery is a veteran and spent 4 years Automated Logistic Specialist Certified Motorpool Parts and advisor specialist from 1998-2002. He has Grant Cardone Training and is Goodyear and Michelin certified. Outside of Telle, Emery enjoys spending time with his family.
David Ball
Store Manager, Fenton
David joined Telle Tire in 2022 bringing with him 20 years of experience in the automotive industry! David started working in the shop changing tires, performing oil changes and light duty service before progressing onto steering, suspension and brake repairs. He transitioned to the front office as a service manager to work closely with customers and technicians ensuring repairs were done right the first time! Now, as the store manager, David enjoys overseeing daily operations.
Outside of work David and his wife Lora love spending time with their 4 children Alyssa, Kaylynn, Miah and Chase enjoying the outdoors!
Alen Alicic
Store Manager, Affton
Alen has been in the automotive industry for 14 years. He started his career with Telle Tire & Auto Centers in April 2023 at the Affton location. He has worked his way up from general service technician to service manager to store manager in short order due to his self-motivation and determination. He was the top technician for six months straight in the SouthWest Region in Arizona before coming to Telle Tire. In his free time, Alen enjoys teeing off at the golf course, and reeling in some fish.
Brandon Johnson
Store Manager, Eureka
Brandon started in the industry 12 years ago as a General Service Technician. With hard work and determination he has worked his way up through the ranks to Store Manager! Brandon is married to his wife Megan and they have two children, Colt and Quinn. He enjoys taking them to the park and chasing them around for fun. In his spare time, Brandon coaches competitive cheer-leading and likes to demonstrate his abilities stunting and tumbling!
RON DENTI
General Manager, Kansas City North
Certifications: Service Sales Academy Customer Handling Expert; Dale Carnegie Leadership Certified; CTI Tire Professional
Ron has spent over 30 years in the automotive repair industry managing both single and multi-location retail operations. In 2012, he began to lead the KC North location as Store Manager. He is committed to providing value to each and every customer and has great pride in his team and their service provided. Ron has a passion for cooking and enjoys sharing that passion with his wife, Vicki, and family.
DAVID CAGLE
Store Manager, Liberty
Certifications and Accolades: ASE Certified Service Advisor; Cadillac, Buick & GMC Certified Technology Expert & Service Management; Jaguar and Rolls Royce Customer Service Training; Cadillac, Buick & GMC Mark of Excellence Service Award
David has been in the automotive industry for over 27 years and has been with the Telle Tire family since 2021. David loves that every day is different and challenging in this industry and enjoys working closely with associates and customers. David has been married to his best friend, Lori, for 20 years and they have 4 children and 3 dogs. He enjoys family time, golfing, hunting, exploring new places to eat and watching the Georgia Bulldogs.
ROB THOMPSON
Store Manager, Independence
Certifications: Service Sales Academy Customer Handling Expert
Rob started his career as a technician in 1992. In 1999 he was hired on at a small family owned repair shop and was given the opportunity to be store manager 5 years later. He has remained at the same building and joined the Telle Tire team in 2020. What Rob enjoys most are the lasting relationships he has built with his long-time customers of over 20 years. At home he enjoys time with his wife Glenda, the outdoors and watching baseball.
Blake Newport
Store Manager, W. Kearney
Education: Bachelor's Degree in History from Northeastern State University
Blake has enjoyed for the automotive industry for over 7 years, with the last two years focused on servicing customer needs. He joined the Telle Tire family through acquisition of JBC in 2021 and his favorite part about his position is providing solutions to customer problems. Blake enjoys playing guitar and watching football in addition to spending time with his fiancé Keisha and their two dogs Winter and Daisy.
Tammy Bryant
Store Manager, East Republic Rd
Tammy has been involved in the automotive industry for over 25 years, most of which was spent as a manager at both independent tire/service centers and dealership service departments. She joined the Telle Tire family in 2022 and her favorite part about her position is providing exceptional service to each customer. Tammy enjoys cooking and baking as well as making crafts.
Joe Day
Store Manager, Jefferson City
Joe has been in the automotive industry for over 16 years. Joe started his career as a mechanic at Toyota in Columbia, Missouri. He joined the Telle Tire family in October of 2022. His most favorite part about his job is getting to know the customer and teaching them about there car, and the amazing people he gets to work with. Joe enjoys being a part of the Regional West Fire protection district, as a volunteer firefighter, playing the drums, and spending as much time with his family at home.