Affton Auto Repair and Tires
Welcome to Telle Tire – Affton
9000 Gravois Rd Affton, MO 63123
Our Business Hours
Monday-Friday: 7:30 a.m. – 5:30 p.m.
Saturday: Closed
Sunday: Closed
Telle Transport
Take back your day with our shuttle, loaner and valet service.
We make it as fast and convenient as possible to service your car. You can drop it off and ride our complimentary shuttle to and from your home or office. If you'd rather, we'll give you a loaner. Or, deliver one to your home or office for a small charge. It's just one more example of how we're Driving Your Way.
Why Choose Telle Tire & Auto Centers in Affton MO
Full Service Auto Repair Backed By Warranties
We do more than just tires at Telle Tire! Let us meet all of your vehicle needs, including repair, maintenance, fleet services, alignment services, and more— all backed by a no-hassle 3 year / 30,000 mile warranty.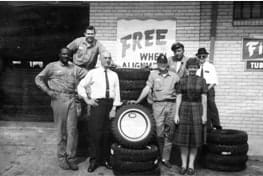 Four Generations of Local Service
We're passionate about forming long-term partnerships and doing the right thing for our customers for up to 80 years. We are excited to bring this level of customer service to the good people of Springfield!
Our People Are The Difference Makers
Our ASE certified technicians are the best in the business, which is why our culture of service and accountability directly led to Telle Tire being proudly selected as a top finalist for best places to work in our industry.
Going the Extra Mile
Telle goes the extra mile to provide excellent service to customers —literally! We will give you a complimentary ride to and from the shop through our loaner, shuttle, or valet service. All you have to do is schedule the time and we'll be there.
Contact Us
Four generations, more than 80 years and thousands of fixed cars later, we know just about everything there is to know about cars. We are the full-service mechanics Affton, MO has trusted since 1942. So go ahead, ask us your toughest questions. We have the answers.
The best name brands and professional service at the lowest possible price.
Guaranteed. That's the Telle Tire Promise.
Tony Glass
Store Manager, Affton
Tony began his career with Telle Tire & Auto Centers as Service Advisor at our Central West End location in August of 2021. Through his automotive expertise and commitment to customer service excellence, Tony was quickly promoted to Store Manager at our newest location in Affton this March, 2022. Both Tony and his wife, Ashlee, are natives not only to St. Louis, but specifically to the Affton/South County area, where Tony attended Lindbergh High School. Tony and Ashlee are raising three young children that keep them on a busy schedule. In his free time, Tony enjoys spending time with his family taking part in many hometown activities such as Grant's Farm, the STL Zoo, Ted Drewes and, of course, Cardinal's baseball.