Welcome to Telle Tire & Auto Centers at W. Kearney
Every Telle Tire and Auto is equipped to provide full-service auto repairs and vehicle inspection. We have you covered for the best prices on tires and any aspect of your vehicle's maintenance. Your car will be in the hands of a local family-owned and operated company that has thrived over the years by building long-lasting relationships with our customers. Since our humble beginnings in 1942, four generations of our family have kept families like yours on the move. We strive to ensure that every person has a seamless experience from the moment they drive onto our lot until long after they drive away.
Letter From Aaron Telle to the Springfield Community:
For almost 80 years, we've focused on what matters most: our customers. Every day, our customers fuel our passion for serving. As a fourth generation owner, I don't take lightly the responsibility I have to continue that focus that my great-grandfather started.
We are committed to providing a seamless transition and showing Springfield why we have been keeping families on the move since 1942. We've learned that it is about more than the car—it's about a seamless customer experience and keeping our promises.
Here is the Telle promise: when you bring your car to us, we will take care of it—and you. From the moment you drive onto our lot to long after you drive away, you are our priority. We look forward to the opportunity to continue the opportunity of servicing your family vehicles and building a long-lasting relationship for many years to come.
Below is more information about our company and how this change will benefit you and your family's vehicles.
Why Choose Telle Tire & Auto Centers
Full Service Auto Repair Backed By Warranties
We do more than just tires at Telle Tire! Let us meet all of your vehicle needs, including repair, maintenance, fleet services, alignment services, and more— all backed by a no-hassle 3 year / 30,000 mile warranty.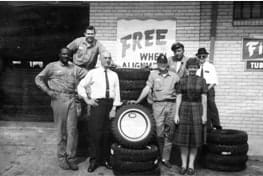 Four Generations of Local Service
We're passionate about forming long-term partnerships and doing the right thing for our customers for up to 80 years. We are excited to bring this level of customer service to the good people of Springfield!
Our People Are The Difference Makers
Our ASE certified technicians are the best in the business, which is why our culture of service and accountability directly led to Telle Tire being proudly selected as a top finalist for best places to work in our industry.
Going the Extra Mile
Telle goes the extra mile to provide excellent service to customers —literally! We will give you a complimentary ride to and from the shop through our shuttle, or valet service. All you have to do is schedule the time and we'll be there.
Contact Us
With an array of shops operating across the Missouri area and thousands of cars fixed over the years, we know just about everything there is to know about auto repair. We're the full-service mechanics that families across Springfield trust to provide outstanding work and excellent customer service. We're happy to walk through any questions you have about your vehicle, just fill out this form and we'll be in touch.
The best name brands and professional service at the lowest possible price.
Guaranteed. That's the Telle Tire Promise.
Blake Newport
Store Manager, W. Kearney
Education: Bachelor's Degree in History from Northeastern State University
Blake has enjoyed for the automotive industry for over 7 years, with the last two years focused on servicing customer needs. He joined the Telle Tire family through acquisition of JBC in 2021 and his favorite part about his position is providing solutions to customer problems. Blake enjoys playing guitar and watching football in addition to spending time with his fiancé Keisha and their two dogs Winter and Daisy.