Same great team FROM MIDWEST AUTO CLINIC will remain!
About Telle Tire & Auto Centers
For more than 80 years, we've focused on what matters most: our customers. Every day, you fuel our passion for serving. And after 80 years, we're just getting started.
As a family business, we've always put families first. We've been keeping them on the move since 1942, and we're ready to do the same for yours.
At Telle, the wheels will never stop turning to serve you better. So look for new services, delivered with the same commitment. Because here, our focus will always be on you.
We've perfected the art of car maintenance and customer satisfaction. Excellence in repairs and service is what's allowed us to expand to a multi-location auto repair shop.
Auto repair, we've learned, is about more than the car—it's about a seamless customer experience and keeping our promises.
Here is the Telle promise. When you bring your car to us, we will take care of it—and you. From the moment you drive on our lot to long after you drive away, you are our priority.
We're not your average auto repair & tire shop. We're Telle Tire & Auto Center.
Questions and Facts about the ownership change
Is my warranty still good?
Yes, your warranty will still be honored by Telle Tire. In fact, Telle Tire's warranty on many repairs is actually even greater with a standard 3 year, 30,000 mile warranty on parts and labor.
Are all the employees leaving?
No, we understand the importance of creating relationships and building trust. Telle Tire is committed to retaining the great associates of Midwest Auto Clinic.
Are your prices changing?
The pricing you paid at Midwest Auto Clinic will remain the same.
Who is Telle Tire?
Telle Tire is a family owned business serving the St. Louis community for over 80 years. Owner Aaron Telle, his brother Alex, and wife Laura are fourth generation members of the family business. They are committed to long term relationships with their employees and customers and always determined to do the right thing.
What is changing?
We will update the interior and exterior to make it more aesthetically pleasing and comfortable.
We will now be closed on Saturdays. As a family business, we value the time our associates can spend with their families and friends. We value quality of life for our associates and work hard to be a top employer which helps us create strong customer relationships.
In the future, more offerings will be available to enhance your customer experience which include: loaner vehicles, complimentary shuttle service, online scheduling, special promotions, and many more exciting things to come.
Why Choose Telle Tire & Auto Centers in Lee's Summit MO
Professional Service Backed by Warranties
Our ASE certified technicians are the best in the business, and with a no hassle 3 year / 30,000 mile warranty, your vehicle is in good hands.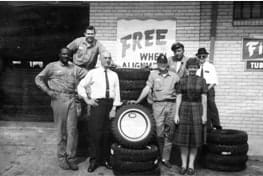 Four Generations of Local Service
We've successfully served locally for more than 80 years because we're passionate about forming long-term partnerships and doing the right thing for our customers.
Our People Are The Difference Makers
Our culture of service and accountability directly led to Telle Tire being proudly selected as a top finalist for best places to work in our industry.
Comfortable Waiting Rooms
Wait for your service completion in style with a premium coffee or bottled water in our modern and cozy waiting rooms.
We take the worry out of warranties.
You're protected for a full 3 years / 30,000 miles on parts and labor – one of the strongest in the industry.
Clear and transparent digital inspections.
We'll text you the technician notes and photos for your analysis and convenience.
Contact Us
Your car will be in the hands of a family-owned Missouri company that has thrived for more than 80 years by building long-term, trusting relationships with customers, hiring the best, most qualified staff, and offering the best pricing and selection. We will continue to provide you with the same top-notch auto service while now becoming your home for the best place to buy tires in Lee's Summit, MO.
The best name brands and professional service at the lowest possible price.
Guaranteed. That's the Telle Tire Promise.